4th Grade Performance Task
New York State Alternative Assessment in Science Project (NYSED)
1996 Administration
Description:
Students determine the relative amounts of oils in food. They then apply their understanding to an additional situation. The task assesses students' abilities to make simple observations, make generalized inferences from their observations, and apply their understanding to an additional situation.
This task is designed to take students approximately 8-10 minutes to complete.
Overall Task Content Area:

Physical Science
Specific Knowledge Areas:

Performance Expectations:
conducting investigations
gathering, organizing, and representing data
formulating conclusions from investigational data
applying scientific principles to develop explanations and solve new problems
National Science Education Standards:
4 B PS 1: Properties of matter: Grades K-4
1.1 Objects have many observable properties, including size, weight, shape, color, temperature, and the ability to react with other substances. Those properties can be measured using tools, such as rulers, balances and thermometers.
4 A SI 1: Abilities necessary to do scientific inquiry: Grades K-4
1.4 Use data to construct a reasonable explanation. This aspect of the standard emphasizes the students' thinking as they use data to formulate explanations. Even at the earliest grade levels, students should learn what constitutes evidence and judge the merits or strength of the data and information that will be used to make explanations. After students propose an explanation, they will appeal to the knowledge and evidence they obtained to support their explanations. Students should check their explanations against scientific knowledge, experiences, and observations of others.
(Use the "hot" link on the PALS home page to check the full text of related National Science Education Standards, if desired.)
National Council of Teachers of Mathematics:
AL4: Analyze change in various contexts:
Grades pre K-5 a. describe qualitative change, such as a student's growing taller

RP4: Select and use various types of reasoning and methods of proof:
Grades pre K-5
General Instructions to the Teacher:
This task is designed to take students approximately 8-10 minutes to complete.
Students will be working individually during this exercise.
Students should be ready to work as soon as the period begins. The materials should be set out at each lab station, if possible. A central supply area, if needed, should be easily accessible. All supplies should be clearly labeled.
Materials for Testing Foods:
The teacher needs:

At this station students should have:
6 brown paper squares (5 cm x 5 cm)
4 food samples (see preparation section)
Dropper bottle with vegetable oil
Dropper bottle with water
Bag samples A and B
Waste container (cup or small pail)
Paper towels
Test sheet
Advance Preparation:
Use food samples which can be picked up easily with fingers.
It is also important that the food samples leave distinctive marks on the brown paper. Some good examples are listed below:

cheese
snack crackers
pepperoni/salami
peanuts
apple slices
peeled carrots
cucumber slices

Two of the food samples should contain oil.
Try your samples out on the brown paper bag the student will be using to be sure that the students will get the desired results.
Brown paper squares can be cut from a paper grocery bag. The bag should not have any type of special coating to resist wetness.
The type of paper bag squares used in the experiment may affect the students' results. Be sure to test the oil and water on the bag before the students do their testing.
Sample bag A- a plastic sandwich bag. The plastic sandwich bag should not have a zip lock top. This could lead the students to an inaccuracte assumption based on the premise of the experiment.
Sample bag B- a paper lunch bag.
Safety:
Advise the students not to eat the test sample used in the experiment.
Be careful.
Teachers and students should always exercise appropriate safety precautions and utilize appropriate laboratory safety procedures and equipment when working on science performance tasks.
Extensions/modifications:
Task does not easily lend itself to including mathematical criteria in the rubric.
Advanced Preparation Set Up: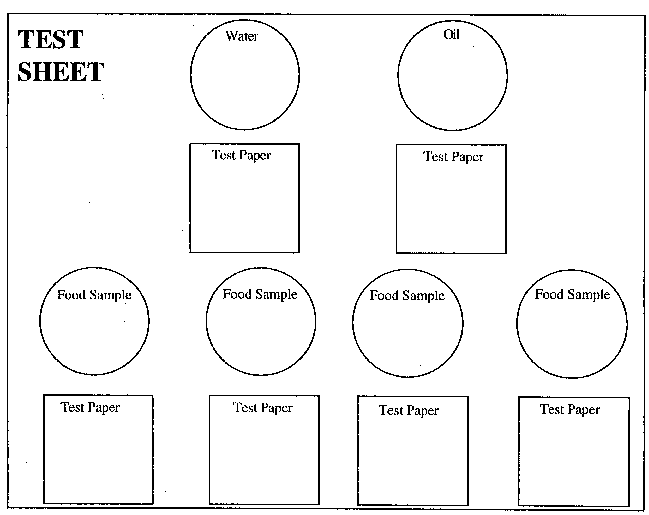 | | |
| --- | --- |
| Prepare food testing samples. | Cut paper bag squares. |
| Prepare water and oil bottles. | Label dropper bottles. |
| Test samples on paper. | Label bags. |