Contributed by: New York State Alternative Assessment in Science Project (NYSED)
Maximum Score - 5 Points
---
Question 1. Observations of dots
4 points total


Standard: The student describes what happens when water reaches each dot.

Point Criteria: Blue dot and Red dot A
1 point for each reasonable description.

Acceptable descriptors:

didn't move

didn't blur

stayed as a dot

nothing

stayed the same

didn't wear out

didn't come out

it got wet

didn't come off

didn't spread out

it got soaked

it didn't change
Standard: The student describes what happens when water reaches each dot.
Point Criteria: Yellow dot and Red dot B
1 point for each reasonable description.

Acceptable descriptors for movement:

climbed up

moved

smudged

touched the top

color went up

absorbed to the top

spread out

ran

raised

reached the top

smeared

moved upward

got bigger

blurred

moved off the circle

Acceptable descriptions for color change:
***No credit is given if the student only states that either Red dot B or Yellow dot changed.
---
Question 2. Reason why red dots behaved differently
1 point total


Standard: The student explains why the red dots acted differently.

Point Criteria:
1 point for a reasonable comparison of the red dot and the other dots on the paper.

Acceptable descriptors of comparison:

One dot used permanent ink and the other didn't.
They were different solutions.
One dot is water color and the other isn't.
They were different markers or inks.
They are made of different stuff.
One is washable and the other isn't.

They were different.
One moved and one didn't.
***No credit is given if the student only restates the observations made in question 1.***
---
Highest possible score - 5 points
---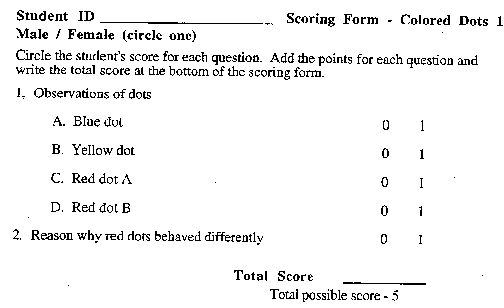 NYS Alternative Assessment in Science Project
NSF Grant #MDR-9154506
Copyright, April, 1996
The State University of New York
The State Education Department
Albany, New York 12234