Contributed by: Kentucky Department of Education (KDE)
Student Name: _______________________________________________
School Name: _______________________________________________
School Code: _________
GENERAL INSTRUCTIONS:
Write your name, school name, and school code on the line above. Do not open this packet until the directions tell you to do so.
You will have a total of 45 minutes to complete this task. You may use up to 20 minutes to complete the group work, found on the front and back pages of this form. When your group is finished with the group work, one member of the group should tell the facilitator that you have finished. Then go on to the individual work. You may not talk while you are working on those pages.
Your group should have the following materials:
four Data Sheets

one 100 watt light source

one ring stand

three styrofoam cups with colored plastic covers

three thermometers inserted in the cups

one stopwatch

four sets of colored pencils

four rulers
GROUP ACTIVITY:
The purpose of this activity is to use data from an experiment to draw conclusions about how a product will work.
Your group is in charge of designing a new product for use in motor vehicles. The purpose of the product is to filter sunlight coming into the vehicle. This product will stick to the inside of the vehicle's windows and may be removed when not needed. The temperature inside of the car will be affected as light filters through the product. Keeping this information in mind, your group must analyze the colors available for this product using the materials provided.
PROCEDURE
Important: Read all of the direcitons below before beginning this task. Make sure every member of the group understands what he/she is supposed to do.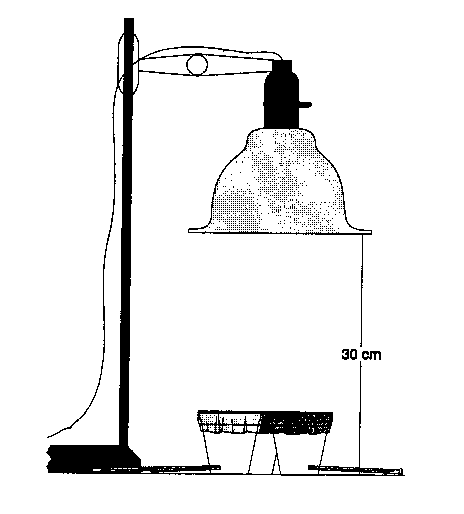 Set up your equipment as shown in the diagram above. All three cups should be directly below the light source. Do not turn the light on yet.
Assign one student to be the timer and give that student the stopwatch.
The other three students will act as the observers. Each observer must select a specific color cup and monitor the temperature of that cup.
Observers: record the temperature of your own cup on your data sheet before beginning the experiment.
Timer: now turn the light on and start the stopwatch at the same time. Leave the light on for four minutes.
Timer: announce the time every 30 seconds for a total of four minutes.
Observers: At each 30-second announcement, record the temperature from your colored cup's thermometer on your data sheet.
TIMER: AFTER FOUR MINUTES, TURN THE LIGHT OFF, BUT LEAVE THE STOPWATCH RUNNING.
Timer: continue announcing the time every 30 seconds for another four minutes.
Observers: continue recording the temperature of your own cup as each time is announced.
After eight minutes of observations are recorded, each observer will have completed one column on a data sheet for one of the colored cups. Now, all members of the group (timer and all observers): record all the data from all three observes on your own data sheets. Be sure each member of the group records all of the data collected.

When you are finished with the work on this page, one member of the group should tell the facilitator that your group has finished its group work. Then do the individual work. You may not discuss the questions or share information.

---

Student Name: _________________________________________________

School Name: __________________________________________________

School Code: _________

Important: all members of the group must record all data before the end of the group work.

| | | | |
| --- | --- | --- | --- |
| TIME Minutes:seconds | Red cup temperature | Yellow cup temperature | Violet cup temperature |
| 0 | | | |
| :30 | | | |
| 1:00 | | | |
| 1:30 | | | |
| 2:00 | | | |
| 2:30 | | | |
| 3:00 | | | |
| 3:30 | | | |
| 4:00 | | | |

| | | | |
| --- | --- | --- | --- |
| 4:30 | | | |
| 5:00 | | | |
| 5:30 | | | |
| 6:00 | | | |
| 6:30 | | | |
| 7:00 | | | |
| 7:30 | | | |
| 8:00 | | | |

INDIVIDUAL ACTIVITY

Construct a line graph that displays all of the data on your data sheet.


Analyze the temperature changes for each color recorded on the graph above. Explain how the pattern observed with each color differs from the patterns of the other colors.

__________________________________________________________________________

__________________________________________________________________________

__________________________________________________________________________

__________________________________________________________________________

__________________________________________________________________________





Using your graph and the diagram of the electromagnetic spectrum of visible light (above), explain the probable causes of the temperature differences among the three filter colors.

__________________________________________________________________________

__________________________________________________________________________

__________________________________________________________________________

__________________________________________________________________________

__________________________________________________________________________

Based on the results of your investigations, which color(s) would you recommend be used for a product that filters the sunlight coming into vehicles in Kentucky? Use as much detail as possible to justify your recommendation(s).

__________________________________________________________________________

__________________________________________________________________________

__________________________________________________________________________

__________________________________________________________________________

__________________________________________________________________________

Kentucky Department of Education
Performance Events 1994-95