9th Grade Performance Task
Developed by: RAND Corporation (RAND)
Stanford University and the Far West Laboratory, 1994
Description:
[Note: This activity can be done in conjunction with "Rate of Cooling Experiment".]
In this task, students design an experiment to measure the insulation properties of different fabrics by immersing cans of water covered with fabric "socks" in an ice bath and measuring temperature changes.
This task assesses students' abilities to draw and label graphs, with correct plotting and axes, make accurate statements about mean rate, total change, and comparisons, describe patterns, design an experiment, and use a formula to calculate heat loss.
Overall Task Content Area:
Science and Technology
Specific Knowledge Areas:
Abilities of technological design
Performance Expectations:
conducting investigations

using equipment

gathering, organizing, and representing data

formulating conclusions from investigational data

applying scientific principles to develop explanations and solve new problems
National Science Education Standards:
12 E ST 1: Abilities of technological design: Grades 9-12
1.2 Propose designs and choose between alternative solutions. Students should demonstrate thoughtful planning for a piece of technology or technique. Students should be introduced to the roles of models and simulations in these processes.
1.3 Implement a proposed solution. A variety of skills can be needed in proposing a solution depending on the type of technology that is involved. The construction of artifacts can require the skills of cutting, shaping, treating, and joining common materials - such as wood, metal, plastics, and textiles. Solutions can also be implemented using computer software.
1.4 Evaluate the solution and its consequences. Students should test any solution against the needs and criteria it was designed to meet. At this stage, new criteria not originally considered may be reviewed.
(Use the "hot" link on the PALS home page to check the full text of related National Science Education Standards, if desired.)
National Council of Teachers of Mathematics:
MEAS1: Understand measurable attributes of objects and the units, systems, and processes of measurement:
Grades 9-12 m. make decisions about units and scales that are appropriate for problem situations involving measurement
DAP1: Formulate questions that can be addressed with data and collect, organize, and display relevant data to answer them:
Grades 9-12 k. know the characteristics of well-designed studies, including the role of randomization in surveys and experiments
Grades 9-12 l. understand the meaning of measurement data and categorical data, of univariate and bivariate data, and of the term variable
PS3: Apply and adapt a variety of appropriate strategies to solve problems:
Grades 9-12
RP3: Develop and evaluate mathematical arguments and proofs:
Grades 9-12
General Instructions to the Teacher:
Students will be working in groups during this exercise. Questions to be answered by the entire group or by the individual student are marked as such.
Students should be ready to work as soon as the period begins. The materials should be set out at each lab station, if possible. A central supply area, if needed, should be easily accessible. All supplies should be clearly labeled.
Materials for "Rate of Cooling":
[Note: For "Rate of Cooling Design" no materials are needed. However, materials are needed for this activity's counterpart, "Rate of Cooling Experiment".]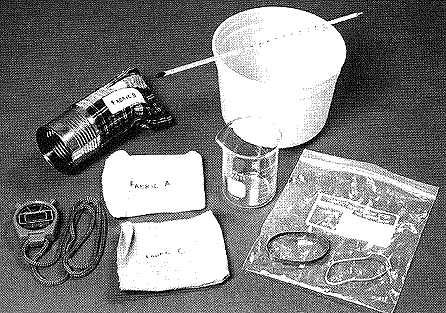 For activity titled "Messing Around":
The teacher will need: