Contributed by: Council of Chief State School Officers (CCSSO/SCASS)
Here are examples for each score point ranging from 0 up to 4.


---
Event Score = 0
Remove the paper from the crayon.

Hang the wire 1 cm from the end of the crayon. It is crucial that there be a complete pathway for the flow of electricity, as indicated in the diagram.

Hang the weight from the clips. Use the string, not the wire.

Do not allow the pull of the weight to draw the two clips together. Make sure that the insulating covers are over the clips.

Do not close the knife switch or complete the circuit until you are ready to start timing.
IMPORTANT: ONCE THE CIRCUIT IS CLOSED, THE BATTERY AND ALL OF THE WIRES WILL BECOME HOT. USE ONLY THE KNIFE SWITCH TO OPEN AND CLOSE THE CIRCUIT. ALLOW ALL WIRES TO COOL BEFORE HANDLING THEM.
Close the knife switch to make the connection complete and start the stopwatch at the same time. After the current begins to flow through the wire, make sure that the wires do not touch, or your circuit will be shorted out. Also, do not pull down on or influence mass in any way.

As soon as the wire cuts all the way through the crayon and the weight drops, STOP THE STOPWATCH, THEN OPEN THE KNIFE SWITCH SO ELECTRICITY STOPS FLOWIN THROUGH THE CIRCUIT. Record the time in Table 1. Repeat this procedure for the rest of the wires.

Give each wire no longer than 5 minutes to cut through the crayon. If it has not cut completely through in 5 minutes, record how far the wire has cut through the crayon in that time.

After you are finished clean up your work area.
Table 1
| | |
| --- | --- |
| | Time (in seconds |
| 32-gauge copper | |
| 36-gauge copper | |
| 32-gauge nichrome | |
| 32-gauge steel | |
Additional observations:
---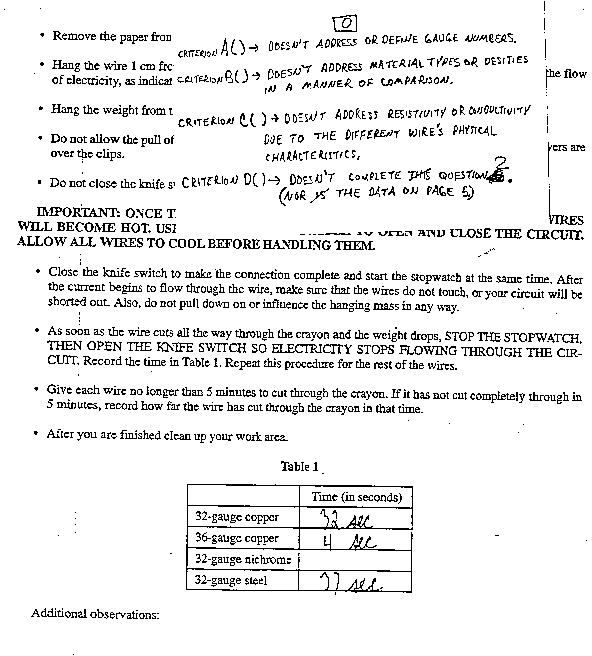 Please answer the following questions by yourself.


Explain your experimental results. Include in your answer a discussion of how the gauge of a wire and type of wire affect the amount of heat radiated.


Which of the wires would you use to repair your space heater? Be sure to justify your answer using the data you collected.

Go to Next Student Work