Contributed by: Kentucky Department of Education (KDE)
PERFORMANCE TASK STUDENT RESPONSE FORM
TASK: S2 - Water Pollution
Grade 8
Student Name: _______________________________________________
School Name: _______________________________________________
GENERAL INSTRUCTIONS:
You are a scientist who has collected four samples of rain water from different parts of Kentucky, as shown by the map on page 2 of this booklet. Your task will be to determine the pH of the samples and then to neutralize them. You will be working as a group for the first 25 minutes of this activity.
MATERIALS:
dropping bottles with solutions (samples 1-4)
universal indicator
pH paper
map of Kentucky (page 2)
acid solution for neutralization
basic solution for neutralization
stirring sticks
safety glasses
paper towels
INSTRUCTIONS:
Place 20 drops of each sampling into the mixing tray in the corresponding depression (sample 1 in depression 1, etc.)

Using the pH paper and the pH color scale, determine the pH of each of the four samples. Record this information in the table at the bottom of this page. If any sample changes color on contact with pH paper, absorb the sample with a paper towel and replace that sample.

Place 1 drop of the universal indicator in each depression containing a sample.

Slowly (one drop at a time), place drops of the appropriate neutralizer into each sample (acid into a base or vice versa). Stir the sample after adding each drop. Continue this until a color change occurs and remains after stirring. Record the number of drops needed to neutralize (cause a color change) in each sample. Record all data in the table below.
| | | | |
| --- | --- | --- | --- |
| SAMPLE | pH | COLOR (FROM-TO) | #OF DROPS TO NEUTRALIZE |
| 1 | | | |
| 2 | | | |
| 3 | | | |
| 4 | | | |
NOTE:
A substance with pH less than 7 is acidic, equal to 7 neutral, greater than 7 basic. The strongest acid has a pH equal to 0, and the strongest base has pH equal to 14.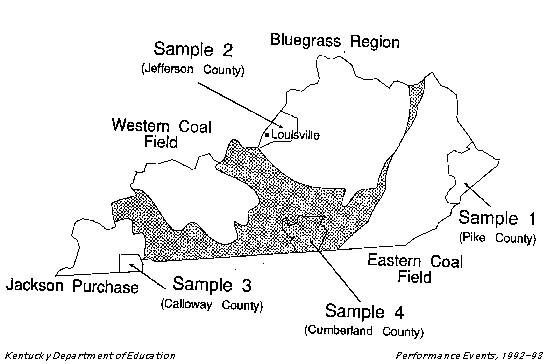 You will have approximately 20 minutes to answer questions 5-7 on your own.
Consider the data you have collected and the information provided on the map on page 4, decide which sample shows the most serious environmental problem in its region. Give possible causes for the problems you identify.

__________________________________________________________________________

__________________________________________________________________________

__________________________________________________________________________

__________________________________________________________________________

__________________________________________________________________________

Predict any negative effects which might be associated with rain water having a pH reading you identified as problematic in question 1. What evidence that these effects have occurred would you look for?

__________________________________________________________________________

__________________________________________________________________________

__________________________________________________________________________

__________________________________________________________________________

__________________________________________________________________________

As a scientist and a citizen in a region showing some of these environmental problems, what steps would you take to deal with the problems?

__________________________________________________________________________

__________________________________________________________________________

__________________________________________________________________________

__________________________________________________________________________

__________________________________________________________________________

Discuss procedures or other variables which may have affected the data you obtained in your experiment.

__________________________________________________________________________

__________________________________________________________________________

__________________________________________________________________________

__________________________________________________________________________

__________________________________________________________________________
Kentucky Department of Education
Performance Events 1992-93