6th-8th Grade Performance Task
Contributed by: The RAND Institute (RAND)
1993-94
Example 2 from 1993 (6th Grade) Format:
Example 2A: Group labels missing, but all 4 box labels form a valid cross-classification.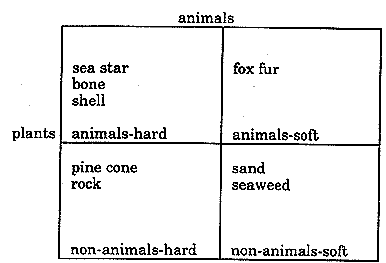 Example 2A: SCORING
There is evidence of an internal cross-classification based on the box labels and the materials in the boxes.
Missing

0 points

2) Column property


0 points

3) Row groups

Missing

0 points

4) Row property

0 points

5) Box labels

Do not correspond to outside row and column labels

0 points

6) Materials

Does the material fit the box?

Based on this student's internal cross-classification, we may award points for all 8 materials.

8 points
Example 2B: No group labels, and one box label missing, wrong, or incomplete.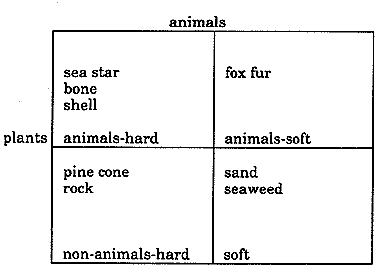 If a box label is missing, incorrect, or incomplete, student receives no points for materials in that row or column. This student receives 3 points for materials (sea star, bone, & shell).